TICKET MANAGEMENT
Work smarter,
not harder.
Get help tickets closed quicker than ever before. iiQ Ticketing contains a suite of management tools designed to help K-12 IT teams handle support requests across an entire district.
Powerful tools for prioritization.
Features that make it simple to organize your team's workload.
TICKET PRIORITY
Stay on top of critical tickets.
Tickets can be automatically escalated, the longer they remain open. Set priority levels for different ticket types, ensuring urgent requests always land at the top of your team's inbox.
FILTER ENGINE
Find exactly what you're looking for.
iiQ Ticketing has powerful filtering capabilities that allow users to sort tickets by issue type, location, priority, hardware model, and more.
CUSTOM VIEWS
Focus your view.
Save user-defined filters as custom views. Custom views are live-updating and can be shared with stakeholders, keeping everyone on the same page.
TICKET FLYOUT
Jump into a ticket without losing your place.
The Ticket Flyout allows users to quickly view ticket details, without leaving their current view.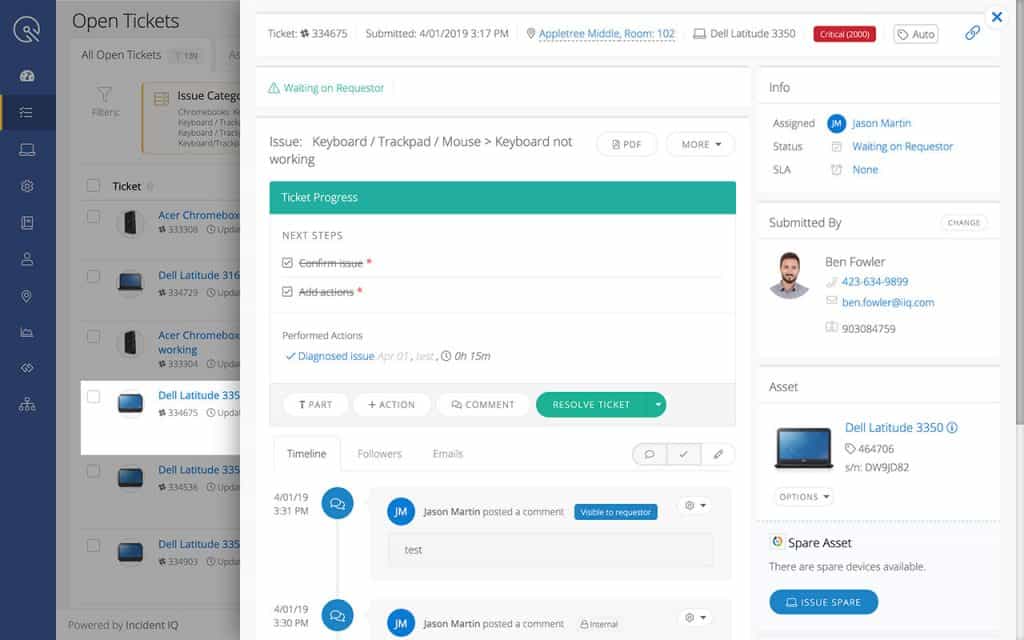 Work tickets with ease.
With iiQ Ticketing, help requests are structured so that agents have all the information they need to begin working a ticket immediately.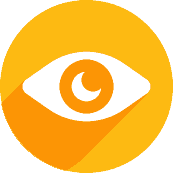 Details at a glance
Issue type, location, model, and ticket priority are displayed at the top of each ticket.
Record resolution actions
Document the steps that are taken to close a ticket. Quickly record the actions and efforts taken in a few keystrokes.
Track ticket progress
Track every change made to a ticket. User actions, comments, automated operations, and outgoing ticket-related emails are recorded in the ticket timeline.
Keep everyone in the loop
With ticket followers, easily add other agents or managers as followers to keep them notified of progress made on a ticket.
Reference important data
Custom fields capture data during submission and are easily visible, ensuring that agents have the necessary information to work a ticket.
Measure performance
Assign Service Level Agreements to tickets based on model or issue type. Track team performance to ensure timely resolution.
Share winning solutions
Knowledge Base articles are recommended based on issue type — automatically directing team members or requestors to appropriate help resources.
Work tickets on the go
Don't sacrifice performance in the field. Native iOS and Android apps provide team members the power of iiQ Ticketing at their fingertips.
Protect student data
iiQ Ticketing is FERPA-compliant. Automatically flag and suppress sensitive data from outgoing communications.
Amplify your team's efforts with automations.
iiQ Ticketing contains a suite of productivity enhancements that ensure your teams are working efficiently.
TICKET TEMPLATES
Create templates for common requests.
Generate pre-populated tickets with a single click. Create ticket templates for commonly submitted tickets, and save district call centers an enormous amount of time.
RULES ENGINE
Compose powerful automated actions.
Rules Engine automatically sorts and routes tickets, assigning priority, service level agreements, and appropriate teams or agents to each help ticket.
LEARN MORE

BATCH ACTIONS
Get more done with less clicks.
Close tickets in bulk. Apply resolution actions, reassign tickets, and change the status of multiple tickets at once. Combine tickets into work packages, where tickets can be grouped and worked in bulk, or in succession.
Discover what Incident IQ can do for your district.