Our latest enhancements are now live. Read on to see the latest enhancements, register for our upcoming Back to School webinars, and learn what's new in Incident IQ this month.
Add variables to subject and body content for email alerts with new Rules Engine actions.
Districts can now add a variety of variable data points to email alerts using this new Rules Engine action. Variables can be inserted into subject and body copy using the format pictured above.

For more information on this feature and to see the full list of variables available, check out our Community page here.
Updates to the WYSIWYG editor enable support for tables, images, and iframe content. 
Updated formatting tools in the text editor are now supported in Knowledge Base articles and ticket comments. These formatting tools include embedded tables and videos, source code, images, tables, text formatting functionality, and enhanced previews.
Easily view tickets you're following and tickets that have subtasks assigned to you with new filters and views.
We've added some new filters and views to make it simpler to track work assigned to you, as well as tickets that you're following.
To see a list of open tickets that you're attached to as a follower, a new default view has been added. You can find this view on the left sidebar under Open Tickets > Tickets you are following.
To add this attribute to a Custom View, select the Ticket Attribute > I am a follower filter and apply it to your view. 

For a list of tickets that have subtasks assigned to you, users can apply the Workflow filters > Has Subtasks Assigned to Me filter in a ticket view.
New batch actions for tickets make it easier to follow tickets in bulk, as well as manage team assignments.
Two new bulk ticket actions have been added: Follow/Unfollow Tickets and Assign/Unassign Tickets to a Team. To assign or unassign tickets from a team in bulk, select a desired group of tickets, click Assign, then select the team you would like to assign the tickets to.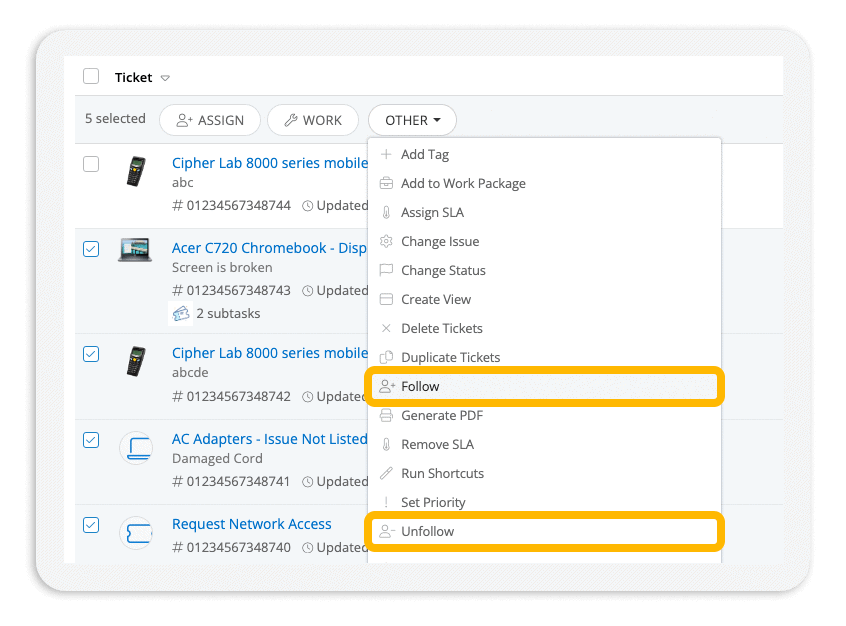 To add yourself as a follower to a group of tickets, select the desired tickets, click the Other dropdown menu, and select Follow. To unassign yourself from a group of tickets in bulk, select Unfollow instead.  
iiQ Facilities: New Labor Type and Labor Performed By columns available for reports.
Two new columns are available for facilities-related labor reports. Add the Labor Type and  Labor Performed By columns to a view by navigating to the View Designer and selecting the desired column.
When exporting a .CSV report using these columns, tickets with multiple agents performing labor will be exported with each agent on a separate row.
iiQ Events: New visibility settings and an easier way to block off entire locations for holidays and school closures. 
Event types now have role-based visibility settings, allowing for events that are only visible to certain users when submitting an event request. When creating a new event type, select the roles that the event should be visible to.
Admins and Agents can now block off entire locations for holidays, school closures, and any other events that require entire locations to be blocked to prevent the scheduling of events. These blocked locations are visible on the Calendar as well.
Incident IQ is hitting the road! Our fall Lunch & Learn schedule is live.  
This fall we're hitting the road, and lunch is on us. Check our dates to see if we're coming to a city near you, and find registration info over on the Events page in iiQ Community.