Welcome to the latest release of Incident IQ, which went live on October 5th. This update brings the release of five powerful Remote Assistance integrations for TeamViewer, Google Remote Desktop, Microsoft Quick Assist, LogMeIn Pro, and Zoho Assist. These integrations make it simple to initiate a remote support session right from an Incident IQ ticket. Additionally, we've added in several enhancements, including email customization and accessibility improvements.
---
Quickly initiate remote support sessions with Remote Assistance integrations.
Five new Remote Assistance integrations are now available in the Incident IQ Apps & Integrations catalog. These integrations for Google Remote Desktop, Microsoft Quick Assist, LogMeIn Pro, Zoho Assist, TeamViewer allow agents to initiate a remote support session within an Incident IQ ticket. Step-by-step instructions guide users through the pairing process, and one-click copy-to-clipboard commands eliminate the need for typing out long access codes. Remote assistance sessions are automatically logged as resolution actions on the ticket timeline, saving agents the need to manually log these sessions themselves.
​​​​
Districts with iiQ Ticketing can install these free Remote Assistance integrations by navigating in-product (as an administrator) to Incident IQ Apps > Browse > Remote Assistance
Stay tuned for future Remote Assistance integrations releasing in the coming weeks for solutions like BeyondTrust (formerly Bomgar), Microsoft RDP, and VNC Connect.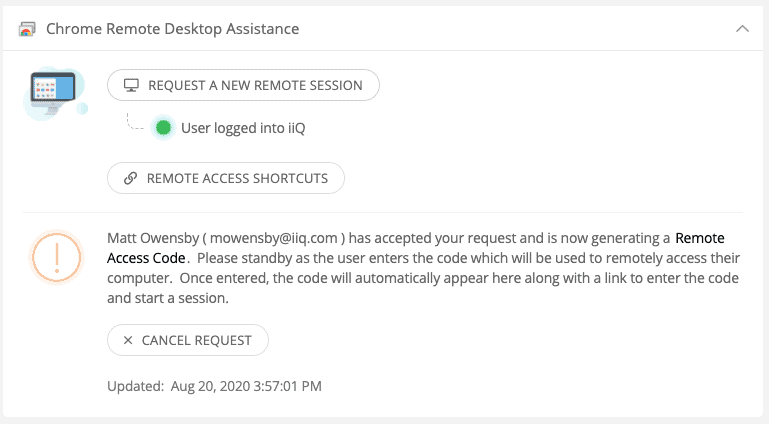 ---
Add clarity to emails with new customization options.
Administrators can now change the "from" line of an automated iiQ email to a custom name, instead of the current sender, "Incident IQ Notifications". This feature helps keep support tickets from ending up unread by recipients, especially by people unfamiliar with Incident IQ.
Administrators can access these new options by navigating to Administration > Site Options > Notifications.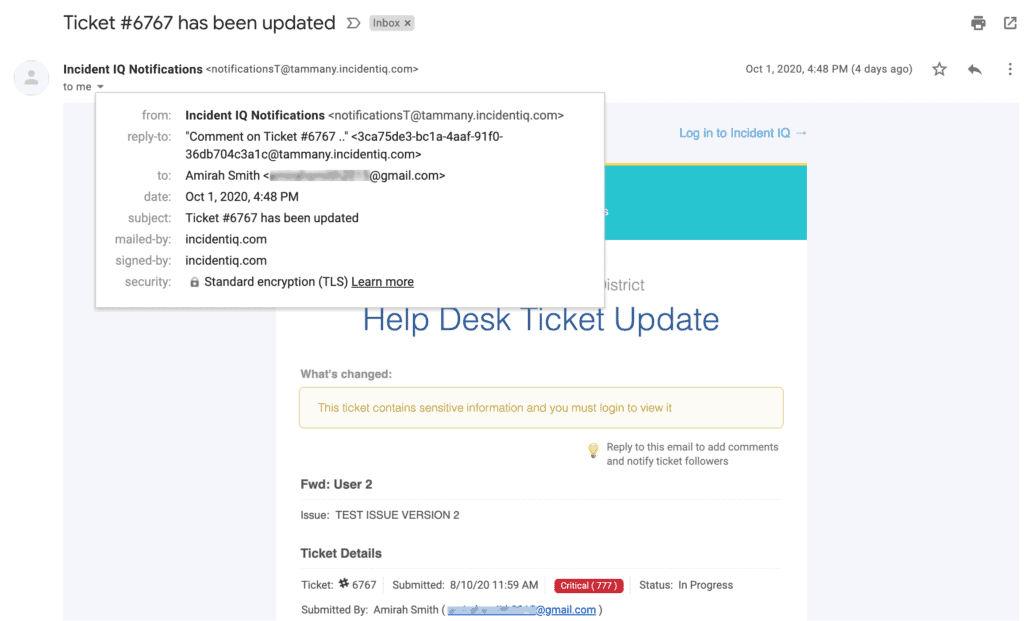 ---
Get the information you need to know with enhanced email legibility.
Email notifications have changed, with higher contrast to assist with increased legibility. reading even on grayscale devices. Larger font sizes and better formatting make notification data more accessible. These changes are already in action — look for the enhanced email format in your inbox.