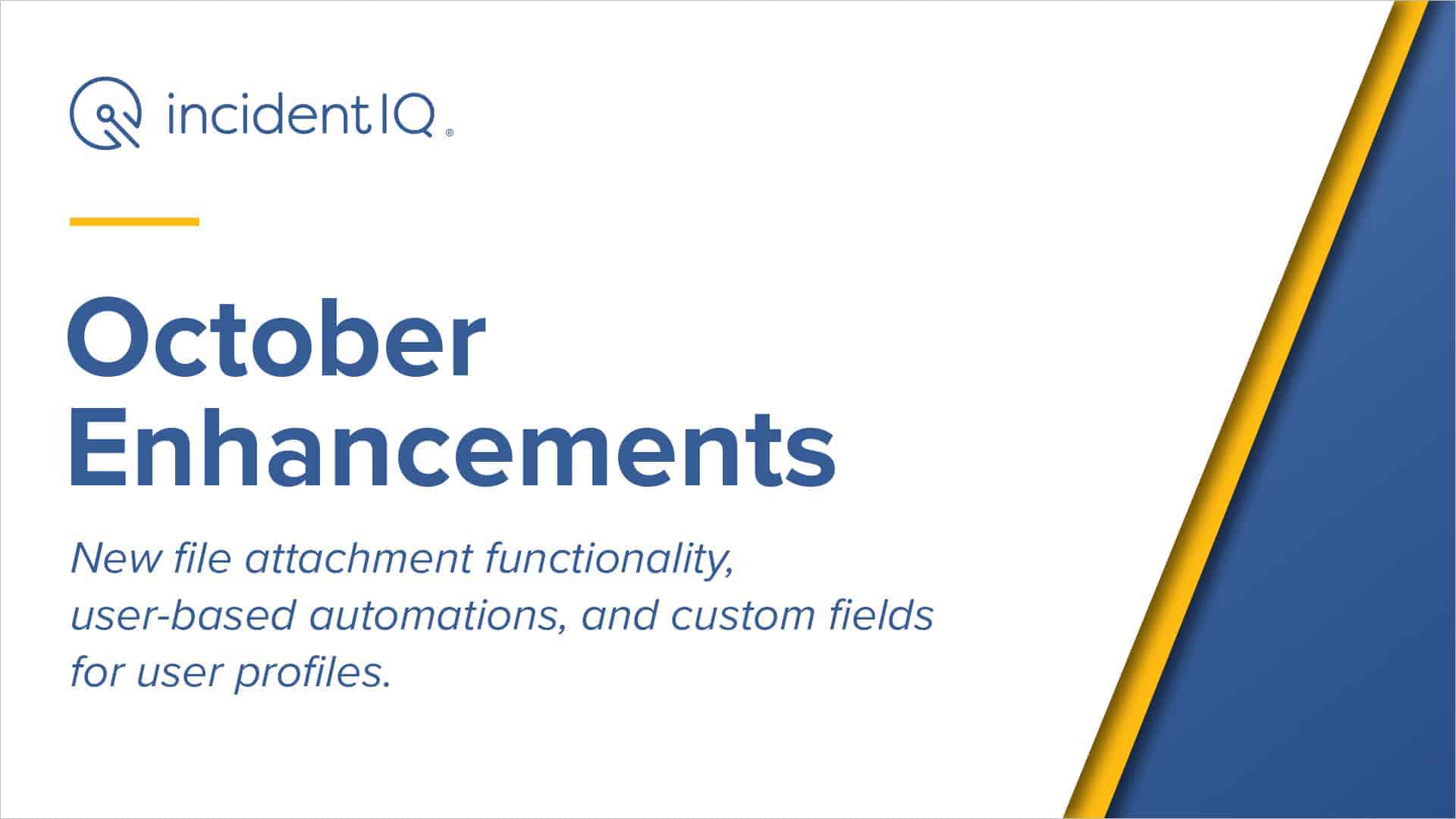 Welcome to the latest release of Incident IQ. This release features a number of enhancements to users within Incident IQ. New custom fields, user rules, and the ability to attach files to user profiles. Read on to learn more about the latest enhancements, and to register for our next webinar.
Add custom fields to user profiles.
Administrators can now add custom fields to user profiles. Custom fields can be added to users based on their role or location. These custom fields can be added by navigating to Administration > Custom Fields and selecting the Users tab.
Attach files to user profiles.
Documents can now be attached to user profiles. Drag and drop files to attach a file from a user account, or link a file attached to a ticket to a user profile from the ticket timeline. Requestors can also upload files to their account, with the relevant account permissions enabled. Enable this permission by navigating to Permissions > Files > Manage Files (My Profile)
Keep files organized by creating different file categories. Administrators can create new file categories by navigating to Administration > File Categories.
Create new Rules Engine automations for users.
Create new automations that fire when a user is created, updated, or on a recurring basis. Administrators can find these new Rules Engine options under Administration > Rules > Users.
Find what you're looking for with new filters.
There's a host of new filters available to help you drill down to what you're looking for. The new filters are can be found when looking at a list of Users or Tickets, and are listed below:
User Filters:
Ticket Filters:

File Keyword Search
Has Files Within Category
Department
Employment Status

Assigned to Me
Assigned to Others
Resolved by Me
Unassigned
Tune in to our next webinar on November 11.
Thursday, November 11 at 2pm ET / 11am PT
Join us as we review some of the recent enhancements in Incident IQ, as well as walk through some frequently asked questions from iiQ districts.