Welcome to the latest release of Incident IQ. This update features a new asset label editor, and an enhancement that enables the creation of tickets for multiple locations at once using Ticket Templates. Read on to learn more about the updates in this release.
---
Create custom labels with the new asset label editor.
A popular request on the Idea Exchange was the ability to customize asset labels in Incident IQ. We've added a new asset label editor that lets districts easily modify labels to their preference. Create data-rich asset labels, complete with location, room, model, owner name and more. A preview of the asset label will be displayed within the editor so you can see exactly how your labels will look before printing.
Additionally, we've enhanced support for longer serial numbers, adding dynamic resizing for strings longer than 20 characters.
To use the asset label editor as an Admin, go to Administration > Site Options > Asset Label
For additional information about the asset label editor, access the help documentation here.
---
Use Ticket Templates to submit tickets for multiple locations at once.
Need to create tickets for multiple locations at the same time? No problem. Agents can now use Ticket Templates to create individual tickets for multiple locations, using a single template. These locations are saved in the template automatically, making it simple to create those tickets again and again.
To create tickets for multiple locations using Ticket Templates select the 'Submit for Multiple Locations' option when creating a template, and add the desired locations.
---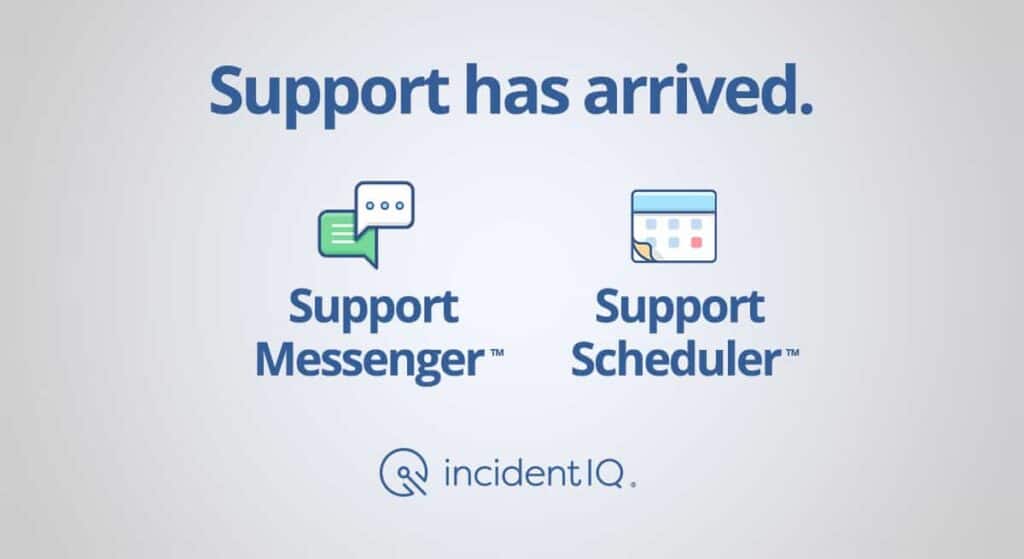 Last month we released two new premium apps designed to help Incident IQ users streamline communication and stay organized.
Support Messenger: A real-time communications app for Incident IQ that lets agents tie message threads to tickets and create group chats for projects.
Support Scheduler: A simple way to schedule support sessions with requestors, track them in the Incident IQ calendar, and export events to third-party calendars.
Learn more about Support Messenger and Support Scheduler in the Incident IQ app catalog.
---
Coming Soon: A new way to manage fines and fees in Incident IQ.
We're excited to announce that the release of a new app to manage payments and fees is just around the corner. With this new Incident IQ app, districts will be able to manage fines and fees related to users, assets, and tickets. Agents can also easily print invoices and receipts, apply fee actions in bulk, and more.
Keep an eye on your inbox — we'll be in touch with more information later this month.
---