Incident IQ's Summer 2019 Release is live. You'll find a number of new features, as well as enhancements and bug fixes. Read on to learn more about the changes found in our Summer 2019 update, as well as our upcoming webinar.
Asset Management Pro is now iiQ Assets
Incident IQ has released iiQ Assets, an upgraded version of the powerful asset management tools found in Incident IQ. iiQ Assets features all of the tools of Asset Management Pro alongside powerful new auditing functionality, which makes it easier than ever to successfully control your IT inventory.
If your district currently uses Asset Management Pro, then you automatically receive iiQ Assets — there's no additional cost, and no action is required on your part.
Smart Audits — included in iiQ Assets
With the all-new Smart Audits toolkit, ensure that all your technology assets are accounted for year-round, with less effort than ever before. Create and manage multiple, tailored audit policies based on technology type, location, and more.
Choose from multiple methods of device verification—schedule automatic audits by tracking recent device logins, or perform physical audits through scanning asset tags using a connected scanner, mobile device, or webcam.
All-new My Classes feature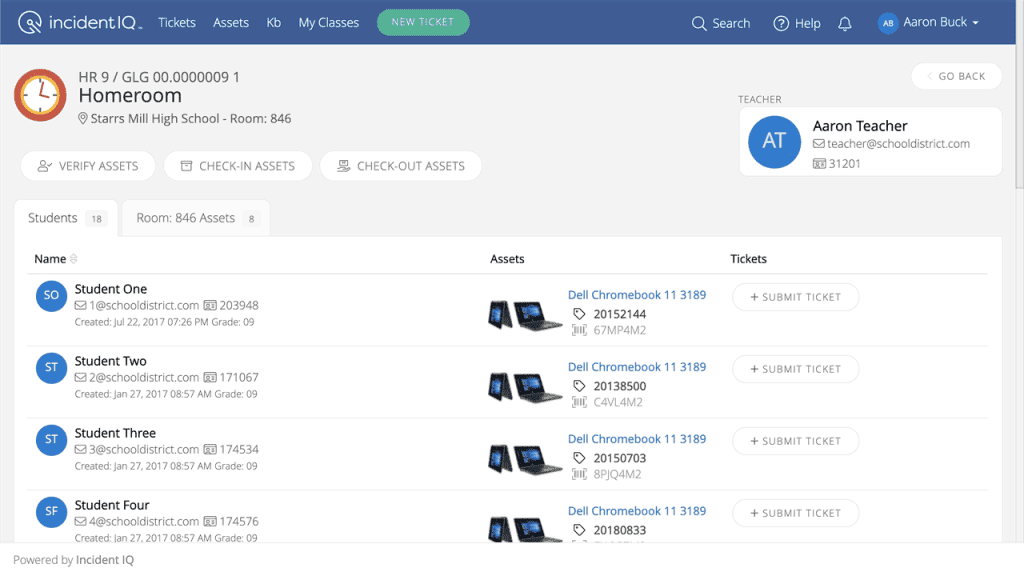 The My Classes functionality is built to make it simpler for teachers to submit tickets, assign ownership, or audit devices on behalf of students.
Districts with Password Assistant can now empower teachers to reset student passwords from the My Classes page with a single click. Classes and rosters are synced from district SIS data, making setup simple. Teachers will see My Classes on their Incident IQ dashboard, and can quickly drill down to find accurate student rosters and any assigned student devices.
Incident IQ Idea Exchange
The Incident IQ Idea Exchange is a new community where users can gather to suggest and discuss new Incident IQ features. Have a suggestion for a new Incident IQ feature? Post your idea on the Idea Exchange, and discuss your idea with other Incident IQ users.
The Incident IQ Idea Exchange will launch August 5, 2019.