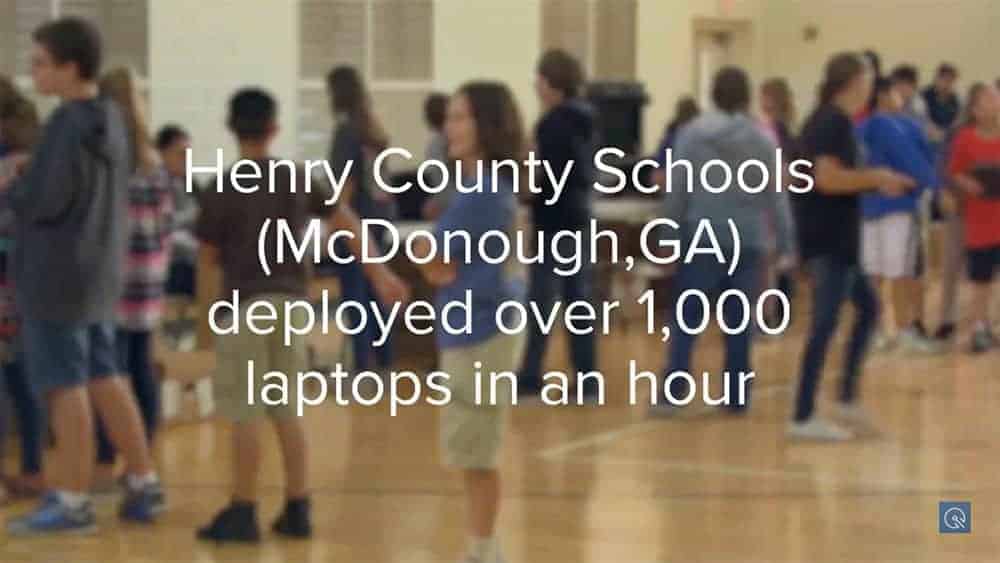 ATLANTA (March 20, 2019)
When the Henry County (GA) School District (enrollment 42,000) set out to implement a large 1:1 device deployment to all students in grades 3 through 12, they faced a number of strategic challenges. However the most common strategy—to introduce devices slowly, with phased rollouts and prolonged pilot programs—just wasn't an option. The policy situation dictated that the technology team had to move fast, with a solid plan to guide their strategy. Equipped with district support and a partnership with Incident IQ, the technology support platform built for K-12, Henry County Schools put over 40,000 student learning devices in student hands in just six weeks.
The actual deployment took place in October and November 2017, but the plan for the deployment took over a year to concretely formulate. Coordinating with individual schools was of chief importance; once success was realized with at a single pilot school with 1,200 students, the remaining schools were eager to sign on to the accelerated deployment plan. "When the timeline was reduced to weeks instead of years, technology inequities within the district were reduced. That was really important to our school district leadership and everyone on the IT team rose to the challenge as well," said Chris Davis, Director of Technology Operations at Henry County Schools.
Henry County had the necessary staff to support the rollout, but realized they needed some additional partnerships to make it work long-term. They chose Incident IQ—the technology support platform built for K-12—as their deployment and asset management solution. "There's a higher level of confidence when you're reporting data from a trusted system. We previously handled asset management through spreadsheets, but Incident IQ provides comprehensive monitoring of devices, which allowed IT and building leadership to focus on issues beyond basic device control," said Kimberly Jackson, Director of Instructional Technology and Information Systems.
The success from Henry County's accelerated deployment strategy has been significant. Schools were ecstatic with the unified rollout — no school was last in line when it comes to receiving new devices, and curriculum wasn't thrown off schedule. With Incident IQ's deployment tools built specifically for K-12 rollouts, Henry County was able to assign devices at a rate of over 1,000 devices an hour. One-click device assignment and detailed storage tracking got devices in student hands, and ensures that students can receive the same device year-over-year.
As for lessons learned, the Henry County staff says that comprehensive buy-in from district stakeholders is critical, as well as forming the partnerships that can provide the logistical support necessary for such a significant task. "Find great partners who really listen, work with your team and bring in all your stakeholders, your community, your teachers. Make sure that everyone is on board. You don't want to do this in isolation," Chris Davis added. With so many sources advising gradual, phased rollouts, school districts may want to reimagine what's possible when they plan slow, but move fast.
About Incident IQ
More than a help desk, Incident IQ is a technology support platform that empowers school districts to manage all the hardware, software and systems that teaching and learning depend on. Incident IQ is built from the ground up for today's K-12 with simple ticket submission for teachers and students, efficient workflows for support teams, and powerful analytics for leaders. Learn more at incidentiq.com.
Press contacts:
Matt Owensby
mowensby@incidentiq.com
1-877-747-3073 ext. 255
INCIDENT IQ and the stylized INCIDENT IQ logo are trademarks or registered trademarks of Incident IQ, LLC. All other trademarks are the property of their respective owners. © 2019 Incident IQ, LLC. All rights reserved.