HR REPORTING AND ANALYTICS
Help your HR team help others with better data.
Improve the performance of your K-12 HR department with relevant data that matters to your team.
SCHEDULE A DEMO
HR DASHBOARDS
Display valuable HR data front and center.
Display the information that matters most to you. Get better visibility over high-priority tasks, team response times, onboarding progress, and more—all from a single, customizable dashboard.
HR CUSTOM VIEWS
Live-updating reports keep everyone in the loop.
Filters and Custom Views let you create the reports you want to stay up-to-date on, such as missing direct deposit information, HR requests by location, and pending onboarding tasks. Save Custom Views on your dashboard to keep critical reports top of mind and immediately visible.
HR REPORT SHARING
Empower your team with in-depth, actionable reports.
Get everyone on the same page and keep stakeholders informed with shareable Custom Views. Report sharing helps you identify workflow bottlenecks, prioritize team to-do lists, and stay synced on your most important projects.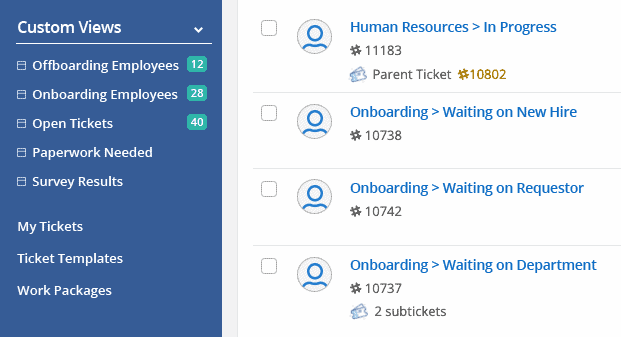 HR ANALYTICS
Work better together with powerful data.
Improve the performance of your HR department with actionable analytics. Live-updating analytics give you the information you need to increase onboarding speed, team response times, and the efficiency of your HR workflows.
Discover what Incident IQ can do for your district.