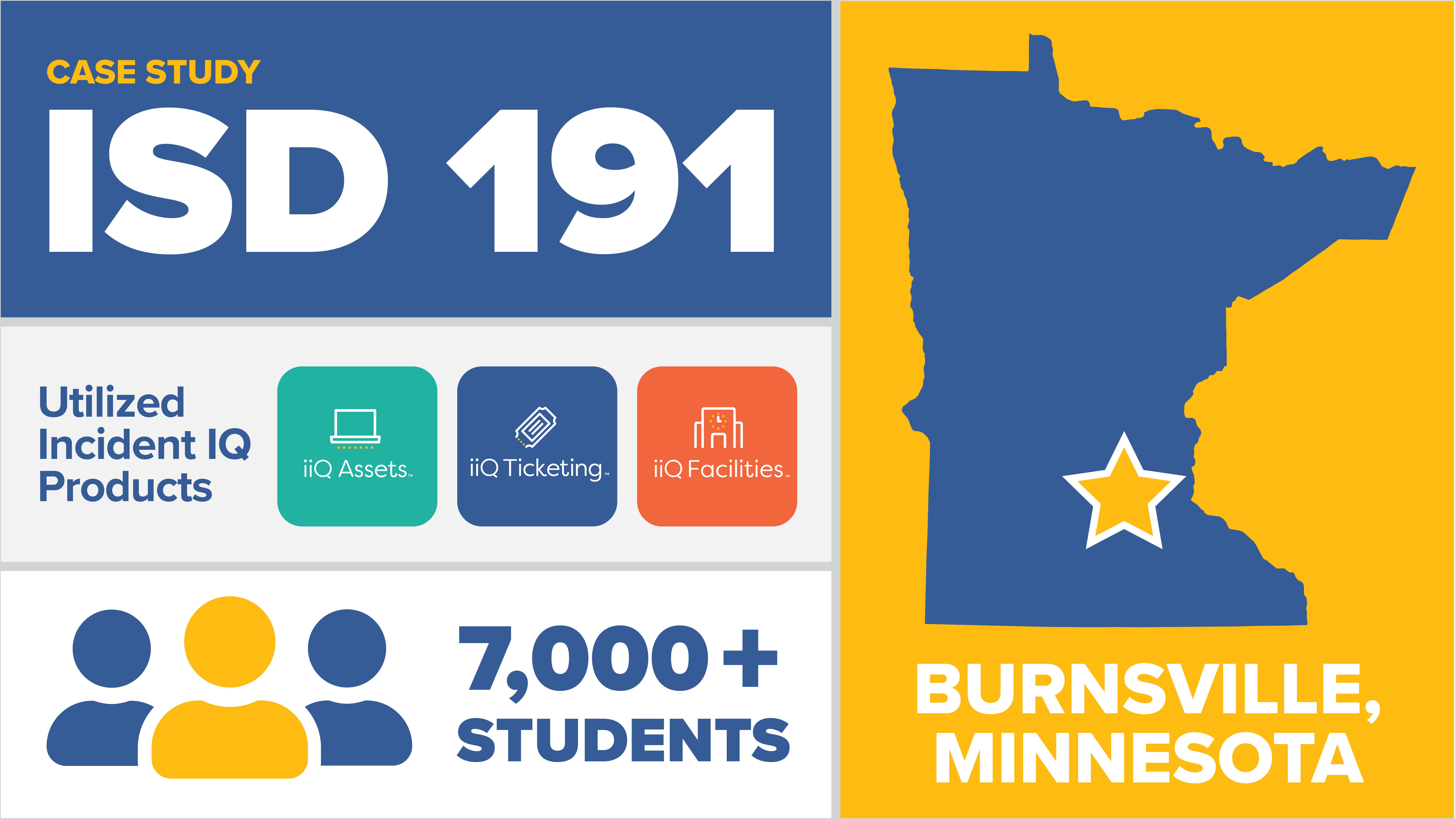 Struggling With Disconnected Systems and Siloed Support Tools
Burnsville-Eagan-Savage School District 191 (also known as ISD 191) is located in suburban Minnesota, and teaches over 7,000 students from preschool through twelfth grade. The district had cycled through a few different methods of help ticketing, asset management, and facilities maintenance, but they couldn't find a solution that worked with the daily needs of their district.
"We used [two systems] before, and neither of those systems talked to each other. [Our previous system] wouldn't let us schedule automated exports or anything like that. The reporting was also really difficult to manage—and it was even more difficult on the inventory side," said Drew Wolke, ISD 191's Data Integration Specialist.
"We really wanted a solution that brought together our inventory and help ticketing," said Rachel Gorton, ISD 191's Director of IT.
Soon they started hearing other Minnesota districts talking about a workflow management solution that was built exclusively for K-12 districts—Incident IQ.
"I had colleagues in other districts that started using Incident IQ and were really excited about it. They showed me what they were able to do to streamline systems so instead of going through four or five different platforms, they could complete a ticket in one place," said Gorton.
"The reality is when colleagues say, 'This is really working for us and helping us,' our ears perk up for that. And we've certainly made huge progress since we launched Incident IQ."
Moving forward with Incident IQ meant putting their IT and facilities workflow on one centralized platform, and ISD 191 was excited to start a new approach for their support teams.
Integrating With MDM/SIS Platforms Puts Key Data Front-and-Center
As soon as ISD 191 imported their data, they saw how Incident IQ's robust platform streamlined their support workflows.
"Having both asset management and help ticketing in one system was what made the transition work so well," said Wolke.
"It's nice that teachers can go on and see their assets, classes, and submit tickets on their students' behalf. All the troubleshooting data in one spot is huge."
Now, Incident IQ's unified platform empowers ISD 191's IT team to quickly find the information they need. API-driven integrations securely import MDM and SIS data into support workflows, so technicians are able to view relevant data in real time.
"The integrations are super nice. I'm not going to lie, pulling data [to our previous system] was next to impossible," continued Wolke.
"It was very difficult to get data in one meaningful way. The [Incident IQ] integration with SCCM is great, and the integrations with Google are allowing us to streamline our processes much more. Now we're able to get quick reports, and it's super, super helpful."
As the Data Integration Specialist, Wolke found that Incident IQ helped him accomplish his daily tasks easier.
"It was next to impossible in our last ticketing system to be able to say, 'This ticket just came in.' Now, most of my day-to-work is simplified by looking through custom views. I've also used routing tools so I'm able to snag [tickets] a lot earlier than I have been in the past," said Wolke.
Incident IQ's in-depth ticket data helped ISD 191 work effectively with help requests. Now, the district receives data-rich help requests that combine asset data and user data—making it easy to resolve help requests in an accurate, reliable manner.
"If you manage projects based on emails, it's just a hodgepodge mess," said Gorton.
"But if you use an actual management tool [like Incident IQ], then you're consolidating information in a way that allows you to move things through the system faster—and with more clarity from your team. Having all these spreadsheets is great, but who has the permissions? Are they up-to-date? Having it in one place means I'm able to pull up everything for one user."
"The timeline of what devices, users, and assets and who did what would be a nightmare on spreadsheets or homegrown systems," agreed Wolke.
"Overall, being able to view data and slice the data is super helpful in order for us to track everything. I think that is exciting to see where we're going."
Establishing A Smooth Workflow for ISD 191's Facility Team
ISD 191's IT team wasn't the only department that could use modern workflow tools.
"Our facility team was using a product that was not good for them," shared Gorton. "The feature set that was within the [previous product] just wasn't very robust. It was not a good user interface for their team."
Incident IQ, on the other hand, contains workflow tools that automatically routes facilities work orders to the appropriate team, sorted by priority, issue type, location, and more. Gorton worked with ISD 191 facility leaders to show how Incident IQ's tools let facility team members manage and complete work orders from the same user-friendly interface.
"Incident IQ has some additional features that they didn't have before, and it was a heck of a lot faster. The feedback so far has been positive," said Gorton.
Wolke, who also works alongside the facilities team, noted that Incident IQ was "super easy" for the facility department to pick up. Together, they set up a ticket workflow that allows end users to submit IT and facilities help requests from a single portal, and let Incident IQ do the heavy lifting of routing and sorting the ticket based on specific conditions Wolke's team established. Now, ISD 191's support teams don't have to manually investigate each ticket to determine which department should receive the request—Incident IQ's streamlined workflow ensures that each support team only receives relevant help requests.
See What K-12 Districts Are Talking About
Incident IQ is an award-winning workflow management solution that puts multiple K-12 support teams on the same page. If you're tired of flipping through platforms to find the data you need, it's time to move to the unified platform that thousands of districts are talking about.
Schedule your demo today and see how Incident IQ can transform your district's tech stack.