The modern K-12 classroom looks much different than it did a few years ago. Computers, laptops, and other personal computing devices have swept through schools and are changing the way school districts think about and deliver IT support.
But of the different laptops being deployed each school year, Google Chromebooks are the most popular by far with their affordable pricing, built-in malware protection, productivity apps, and ease of use.
In 2018, 60% of laptops being used in schools were Chromebooks. Even the Vice President of Microsoft Education agreed that Chromebooks are great for schools—according to audio from a leaked meeting obtained by Business Insider, he told his employees that "[i]n many cases, when schools are buying Chromebooks or Windows PCs, Chromebooks are still faster and cheaper, and they are easier to deploy and manage."
However, managing the distribution and usage of Chromebooks in schools still presents several challenges for K-12 IT departments. Fortunately, Chromebook management software delivers enterprise-level device management capabilities to schools that make it possible to support thousands of district devices.
But how exactly does it help K-12 IT teams streamline their existing workflows?
Streamline 1:1 Chromebook Deployments
For schools implementing 1 to 1 technology initiatives, calling device deployments and collections "complicated" is a bit of an understatement.
K-12 districts deploy thousands—if not tens of thousands—of student learning devices each school year, and districts are expected to enroll and distribute them in as little time as possible. With Chromebook management software, K-12 IT teams can streamline the entire deployment and collection process:
Check-in & Check-out: Using barcode scanners, K-12 staff can conduct large-scale device deployments and instantly assign student devices.
Detailed Device Storage: During collection, the location of an assigned Chromebook can be automatically stored in the Chromebook management system database.
Issuing spare devices: By maintaining detailed Chromebook inventory information, Chromebook management software allows schools to easily deploy spare student devices throughout the school year. K-12 districts can then monitor the number of spare Chromebooks available in their district and ensure that their students have access to a device at all times.
"This year when our elementary school handed out Chromebooks, I barely had to do anything. Our elementary school rollout was able to be done by classroom teachers using [Incident IQ] and a 5-minute training video I made."
— Rob Meeker, IT Specialist at Springfield Local Schools, Ohio
Simply put, Chromebook management software makes deployments and collections easier for students, parents, and K-12 teams alike.
Secure missing or stolen Chromebook devices
The Chromebook's light and portable design make it the ideal laptop to take outside the classroom. However, when put into the hands of K-12 students, these mobile devices are frequently lost or stolen. And with so many devices on the move each day, school districts have the odds stacked against them—there's little they can do to prevent device theft or misplacement.
Fortunately, Chromebook management software mitigates the risk of losing district devices with real-time solutions. As soon as a device is reported as stolen or missing, users can select the device in question and remotely lock, disable, or even wipe a Chromebook of its data entirely.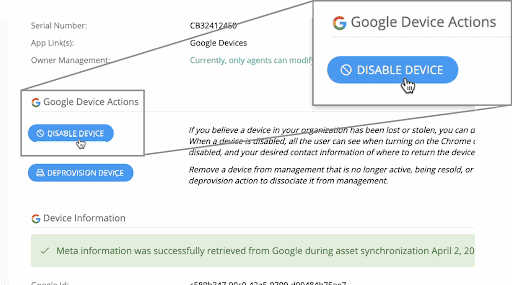 Similar security features for Chromebooks can be found in the Google Admin console. However, the functionality that comes with specialized Chromebook management software presents two key differentiators that give users more control:
Writeback commands that allow users to remotely lock, disable, or wipe a Chromebook of its data without logging in to the Google Admin Console
"Custom permissions," which allow administrators to restrict or grant admin access to other users in their organization
With security features built specifically for K-12, Chromebook management software prioritizes student safety and protects sensitive school and student information.
Encourage student device accountability
Having reliable software in place to manage these devices allows students to maintain ownership of the same device year over year. Returning the same Chromebooks to students fosters device stewardship and gives them a greater incentive to treat their assigned Chromebooks with care.
But device stewardship isn't the only way K-12 districts can extend the lifespan of their deployed Chromebooks. Chromebook management software also records detailed asset and service history from the initial device assignment, during storage, and through device re-distribution.
Chromebook monitoring features like these make preventative measures possible, allowing districts to protect their investment in student Chromebooks and promote individual accountability.
Perform large-scale Chromebook audits
Inevitably, most K-12 teams that distribute student devices won't get them all back. This puts a significant financial strain on schools and results in a shortage of student devices at the end of the year. So how are districts supposed to tackle this problem?
Proper monitoring software makes auditing classroom Chromebooks as simple as taking attendance and helps K-12 districts avoid end-of-year surprises when device collection comes around.
School districts that use Chromebook management software for asset management can take advantage of powerful auditing features like:
Automatic device verifications: When a student logs in to their assigned Chromebook, the device is recorded as currently "in use" and successfully verified.
Teacher-enabled audits: Using barcode scanners or the webcam on their own device, teachers can scan student devices and conduct rapid, physical audits right from the classroom.
Custom audit policy creation: K-12 admins can create custom audit policies and schedules for different types of devices. This allows users to conduct frequent audits for devices on the move and less frequent check-ins for fixed assets that don't leave the classroom.
By simply standing up new auditing processes, K-12 districts can decrease the number of lost or missing Chromebook devices at the end of each school year without wasting time on lengthy auditing procedures.
Generate reports and monitor Chromebook usage
For districts that want actionable insights on their student devices, data-rich reports and notifications can help K-12 teams answer the following questions:
How many spare devices are currently available? Know exactly how many Chromebooks you have at every storage location in your district at all times.
How many devices are damaged or in need of repair? Find out how many Chromebooks in your fleet have been damaged and plan spare allotments accordingly.
How many devices are currently missing? Track down lost Chromebooks by checking which devices have not been successfully audited.
Are students using their assigned devices? See if students aren't using their assigned devices by inspecting device usage during designated time frames.
How many devices are still assigned to students that are no longer in the district? For students that have unenrolled, left the school district, or are no longer allowed device access, IT teams can check if these students still have Chromebooks assigned to them within the management database.
With custom reporting tools, Chromebook management software offers unmatched data visibility, allowing users to share reports with team members and district leadership. K-12 IT teams can then use these insights to improve their workflows over time.
Manage Chromebooks in the classroom with Incident IQ
At Incident IQ, we understand the challenges that K-12 districts face when managing student Chromebooks and other ed-tech products. That's why we built a service management system with an API-driven Google Devices integration that makes Chromebook management easy. We even take it a step further by combining our school help desk software and school asset management software into a comprehensive service management system.
See our Google Devices integration or check out our school asset management software to learn more.