Does the following message look familiar?
"Hey IT department,

My student/child broke/damaged/lost their Chromebook. Could you issue a spare? Thanks!"
If you work in K-12 IT, this ticket will inevitably pop up in your service queue. While 1:1 technology in schools allows students to participate in class wherever they have an internet connection and an electrical outlet, it's difficult to supervise their use of district-owned technology, resulting in increased reports of broken, lost, or stolen devices.
Thanks to the built-in safety features of Chrome OS devices, protecting students online isn't as difficult as in previous years—but what are districts supposed to do when student devices are physically damaged?
This is where school Chromebook policies come into play. They are your K-12 IT team's first line of defense for protecting your district's technological assets—and making sure students understand responsibilities for their assigned devices.
In this article, we'll be walking through how to create a Chromebook policy that you can deliver to teachers, parents, and students, as well as what steps to take once a school Chromebook has been reported as damaged.
General Precautions for Student Chromebook Use
When developing a Chromebook policy in your district, be sure to outline all the general precautions users must take when operating district devices. These precautions should be written clearly and simply so that younger students can understand them too.
General Rules
These are general guidelines students should follow when using their assigned Chromebooks, and can be recorded both in their student handbook and within their Chromebook technology policy.
Do not allow food or drink around student Chromebooks while open or in use
Charging cords and cables should be inserted into Chromebooks carefully to avoid damage
Chromebooks should not be carried while the screen is open
Chromebooks need to be shut down while not in use to conserve battery life
Chromebooks should be stored safely in a laptop carrying case—not a backpack or locker
Do not expose student Chromebooks to extreme temperatures, direct sunlight, or other harsh conditions for extended periods of time
Do not set your Chromebook on slanted, slippery, or unstable surfaces
Do not insert foreign items, or dangerous metal objects, into the openings of student Chromebooks
Students should make sure to "sweep the keyboard" before closing their Chromebook. Headphones, pencils, and other objects left on keyboards when devices are closed are a leading cause of damaged screens
General guidelines such as these help students understand how to properly care for their devices. In the case that a student breaks or damages a device, the rules above can be referenced to ensure that the school district isn't liable for any fees or damages.
Transporting school Chromebooks
To get the most out of their assigned Chromebooks, students will need to use them at home as well as in school. However, preventative measures must be taken when transporting Chromebooks in and out of the classroom.
Advise students to avoid shoving their Chromebooks in bookbags, storing them in lockers for extended periods of time, or tossing them in the backseat of their car. Even with a protective case, student laptops are still susceptible to damage through mishandling. Tossing or shaking a Chromebook can cause damage to its internal hardware or solid-state drive, so they are best carried in a traditional laptop carrying case or stored in a school laptop cart.
Chromebook screen care
Chromebook screens are incredibly susceptible to damage due to their thin and lightweight design and should be handled with extra care.
Avoid placing any heavy or hard objects on top of the Chromebook that put excessive pressure on the screen
Do not place heavy objects on the laptop carrying case
Do not touch or press the screen while in use
Keep the Chromebook screen away from harsh, direct sunlight
Cleaning the Chromebook screen
Chromebook screens should be cleaned with a soft, microfiber cloth. Using microfiber fabric helps clean sensitive glass found on laptops, computers, and PCs without scratching the surface. Similarly, avoid using water or harsh chemicals, general-purpose, or glass cleaners on Chromebook screens. Instead, pre-packaged lens and screen cleaning wipes can be used to remove dirt or residue from the sensitive screen glass.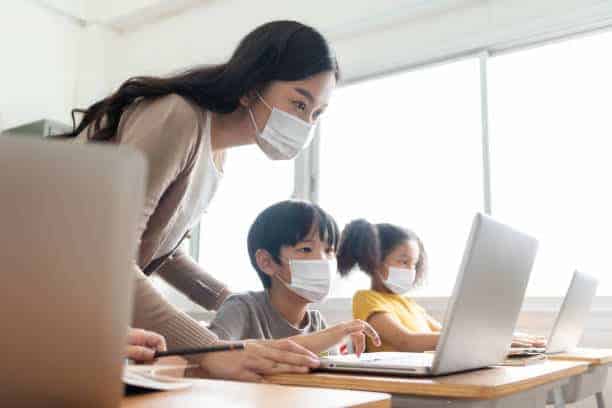 Using School Chromebooks for Educational Purposes Only
Physical damage isn't the only way students can break or shorten the lifespans of their assigned Chromebooks. Despite the Chromebook's great safety features, students can put both themselves and their devices at risk by accessing inappropriate online or downloadable content. That's why it's crucial to state that student Chromebooks are for "Educational Purposes Only" at the beginning of your laptop policy.
Here are a few relevant sections to include in your Chromebook policy to encourage good conduct with school devices.
Using Chromebooks in school VS. at home
Most school districts allow students to take devices home, either through 1:1 technology initiatives or by allowing students to check out school technology from the library or media center.
Allowing students to bring technology home allows them to access educational resources that they may only have access to within the classroom. However, it should be made clear that school devices should be treated the same—regardless of whether they are in or out of the classroom.
Managing files and using Google Drive
Due to the Chromebook's cloud-centric design, student projects and files are saved and managed over Google Drive. Google Drive allows students to access their saved files from any laptop or computer, however, they should also be encouraged to keep track of and make backups of important files as well.
It's advisable to train students on file management procedures at the beginning of the school year to avoid issues with lost or missing files later on.
Using school email
School-assigned emails give students a central location to effectively communicate with other students, teachers, and K-12 staff when needed. However, it's important that these communication channels are used for educational purposes only.
Through the Google Workspace for Education, network administrators can monitor student email activity, filter inappropriate content, and set up online policies so students cannot send messages to external email addresses.
Chromebook personalization
Students may be tempted to personalize their Chromebooks with stickers, drawings, or labels, however, this is ultimately up to your school administration.
Students can be encouraged to personalize and decorate their Chromebook protective cases, as they are typically disposed of once a student has left the school system or graduated. Allowing students to personalize their Chromebooks helps foster device stewardship and keeps students accountable for protecting and maintaining their assigned devices year over year.
However, the primary concern of Chromebook personalization is that it makes it difficult for school administrators and IT agents to easily identify student devices. If this is a concern in your district, consider implementing assets tags, creating barcodes, or assigning serial numbers for individual student devices to make the device identification process quick and easy for school staff.
Additional software and student media
Due to a lack of internal storage, it's difficult for students to download additional software on their Chromebooks. However, Chrome OS gives users access to the Google Play Store which allows students to download and access educational resources. K-12 IT teams can use web and content filters to prevent unauthorized downloads, and the Google Workspace for Education can be used to limit the apps students have access to.
To ensure that students aren't abusing their assigned devices, school districts can mandate random or routine inspections to discourage students from downloading inappropriate content on school devices.
How To Foster Better Device Stewardship in Students
General safety and maintenance guidelines help students understand how to properly care for their assigned Chromebooks, however, students may still have trouble feeling personally responsible for their devices.
How do schools solve this?
By using a school asset management solution, IT teams can assign and track student ownership of a device throughout the school year. Using this feature, school districts can assign the same Chromebook or laptop to a student throughout their school career.
This encourages students to handle their district-assigned devices with care. Otherwise, they'll be receiving their laptops in the same condition they left them the previous year.
What To Do With a Damaged Device
Even with preventative measures and a clearly-defined Chromebook policy in place, accidents are bound to happen and district Chromebooks will need repairs. Having a repair and maintenance process in place gives both students and teachers an idea of how long it will take for their device to be fixed and returned to the assigned owner (unless it is damaged beyond repair, of course).
Here are the step-by-step repair procedures your IT team should consider including in your school Chromebook policy.
Documenting Chromebook damage
Whenever a student's Chromebook is damaged, make sure that the repair request is logged as a help ticket through your district's school help desk software.
Help tickets can be categorized and prioritized by IT agents so they can respond to repair requests sooner. Before submitting a damaged device help request, require students or their parents/guardians to explain how the device was damaged and to what extent. Depending on the cause of damage, school technicians may apply damage-related device fees to the student's account.
These repair requests can also be logged in your district's asset management database which allows K-12 IT teams to:
Access a full repair and service history of individual devices
Understand the physical status of student Chromebooks
Plan future Chromebook purchases when student devices are getting old
Track the current inventory of spare devices for students who need them
How to determine if a Chromebook needs to be repaired or replaced
You can make it easier for your K-12 IT team to sort through help tickets by requiring requestors to select one of the following categories when submitting damaged device help requests:
Minimal damage
Minimal damage suggests that a device is still operable and can be easily repaired. These ticket requests should be given lower priority. Minimal damage might include:
Cracked laptop case
Bad laptop fan
A stuck key on the keyboard
Scratched Chromebook display
Moderate damage
Moderate damage suggests that a device is inoperable and will take several days to repair. These ticket requests should be given higher priority and a spare device will need to be issued to the student or requestor. Moderate damage might include:
Cracked Chromebook screen
Damaged power cord
Dead battery
Fall damage
Virus/malware attack (these are uncommon in Chromebooks thanks to the safety features built into Chrome OS)
Heavy damage
Heavy damage suggests that a device is inoperable and could be beyond repair. In this case, a spare should be issued immediately, and additional Chromebooks may need to be purchased at the end of the school year or semester. Heavy damage might include:
Spilled liquid on the Chromebook keyboard
A smashed screen or keyboard
The Chromebook is approaching the end of its device lifespan
Depending on the level of damage incurred on the device, K-12 IT agents can separate help tickets based on priority, issue type, actions needed to be taken, and more. This allows school IT teams to streamline their workflows and it also helps requestors understand what is going to happen with their assigned Chromebook.
Replacing Chromebooks
If a student's Chromebook is damaged beyond repair, a spare will need to be issued and the Chromebook will have to be replaced. In the case that a device needs repairs, there are a few steps your K-12 IT team can outline in your school Chromebook policy, so students and requestors know what to expect.
Spare device guidelines
Issuing spare Chromebooks or replacement devices ensures that students won't fall behind in class due to a shortage of technology. Your IT team can set up rules or guidelines around spare devices in order to keep them protected. Some spare device rules might include:
Spare devices must remain on school property and cannot be taken home
If a repair is necessary due to malicious damage, school administration can determine whether or not the student in question is to be issued a spare device
Spare devices must be returned as soon as the originally assigned device is repaired
Setting up strict guidelines around the usage of spare devices communicates to school students that a spare is a temporary replacement, and is not to be used long term.
Factory reset to repaired devices
Best practices state that a repaired device should be restored to its original factory settings once a repair is complete. With some districts managing up to tens of thousands of student devices, this standard procedure ensures that K-12 IT staff are able to resolve help tickets on time without getting slowed down by additional troubleshooting or having to manage personal student files.
Students can avoid having their personal data wiped by creating file backups within Google Drive or saving important projects to an external hard drive.
Student consequences and fees for damaged Chromebooks
Delivering consequences to young students is never easy, but they're essential to protecting large investments in school technology and teaching students how to properly treat school property.
Here are some steps your district can take to properly outline disciplinary actions and how fees are applied to damaged devices.
Create an acceptable Chromebook use policy
An acceptable use policy is a set of rules students must follow in order to use and operate their assigned Chromebooks. Your acceptable use policy should also outline potential disciplinary actions students will face if they intentionally damage their assigned Chromebook.
How to apply fees and take disciplinary actions
If a student violates a rule stated in your district's acceptable use policy, here are the steps you can take to deliver consequences and apply damaged-related fees.
Review student intent before charging student accounts
If a Chromebook is intentionally damaged by a student, your school administration can proceed with the consequences already outlined in your district—but how does your K-12 IT team address repeat accidental damage to school devices?
Consider the following set of rules:
The first student accident is waived by the school district and no fees are applied. No disciplinary action is taken
The second student accident is charged to the student's account and no disciplinary action is taken. Damage-related fees can be put into their own category within your district's SIS and the remaining balance must be paid by the end of the school year
In the event of a third accident, damaged-related fees are charged to the student's account and disciplinary action should be taken. Consider devising a device responsibility plan with the student and give them opportunities to regain Chromebook privileges over time
As a general rule for accidental damage fees, normal wear issues and damages protected by an existing manufacturer warranty should always be covered by the school district. However, intentional damage should be documented and charged to the student/parent for the cost of the part or device, along with a discipline referral.
Streamline Chromebook Management In Your District
By referencing the guidelines listed above, you can easily create a Chromebook policy that fits your district's needs and helps increase the lifespan of your school Chromebooks.
At Incident IQ, we understand the pressure IT teams face when trying to manage tens of thousands of student devices. That's why we designed a K-12 service management system that helps school districts easily distribute their school technology policies, apply repair fees, manage spare devices, and support student Chromebooks year over year.
Schedule a demo with our team to see how you can support student devices in your school district.