In the digital age, the practical value of data is undeniable. Most global enterprises understand that properly managed and structured data has the potential to deliver massive value to their organization.
So why aren't more K-12 school districts following suit? And how can you leverage your existing data through MDM and SIS integrations to improve service management in your district?
Before we dive in, we need to understand the true value district data has to offer.
Think of your data as a raw resource. On its own, it has no real impact. However, when given an appropriate context and structure, raw data can be refined and turned into an incredibly valuable asset. This is especially true when it comes to K-12 IT support requests.
Between student data, billing records, asset information, and more, K-12 districts have a wealth of information at their disposal—but it's what they do with it that matters. By utilizing API-driven MDM and SIS system integrations, school districts can provide their IT support teams with the relevant information they need to resolve help tickets and handle support requests with ease.
So how exactly does integrating your district data with school help desk software make handling support requests easier?
Lower ticket resolution times
Let's take a step back for a moment. Without proper data integrations, what does a normal service request look like?
Typically, it's a slow, manual process consisting of back and forth emailing, miscommunication, a lengthy service timeline, and a whole lot of waiting around. Without immediate access to the data you need to work a ticket, service requests in your district probably look the same.
However, when your agents and technicians have immediate access to actionable asset information, service requests can be handled in a fraction of the time.
Within a data-rich help desk, agents can view a total service history of any selected asset. That also includes additional information such as recent login data, purchase information, hardware specs, and even the last recorded physical location of the asset itself.
Simply put, integrating your district data means easier access to information, eliminating the need to sift through multiple systems to find the data you're looking for. Proper integrations provide information where you need it most and help you get tickets closed faster.
Transform your school help desk with SIS and MDM integrations
The benefit of providing your IT team with district data might not be clear at first, but MDM and SIS system integrations can unlock powerful support tools within your district's school help desk software.
Let's break down the benefits of MDM and SIS system integrations one at a time:
SIS integrations: Integrating an SIS (student information system) with your help desk allows IT teams to resolve help requests faster by bringing course codes, roster information, and designated user information into the ticket submission process.
Teachers no longer have to manually input long course codes or student ID numbers—SIS integrations bring that information directly into the ticket submission, saving time for the teacher, and ensuring that agents get accurate information when the ticket is submitted.
MDM integrations: MDM (mobile device management) integrations for leading platforms such as Google Admin Console, Microsoft SCCM, Jamf, Mosyle Manager, and more allow for real-time data syncs between platforms. This data makes it easier for K-12 IT teams to view recent login data, quickly view system specs, and run actionable reports with school asset management software that can help agents proactively track down missing devices.
Service features aside, MDM integrations also provide an incredible safety net for vulnerable devices. For example, MDM integrations allow IT agents to immediately lock a lost or stolen device directly from a help ticket, without needing to switch between systems and juggle permissions.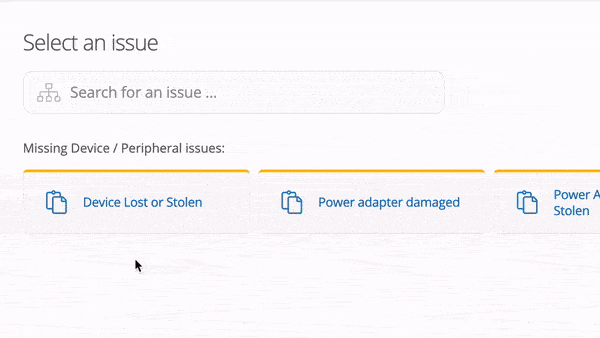 Generate and track customizable asset reports
Detailed analytics are critical for monitoring the performance of your support workflows. Many K-12 districts have their own methods of generating reports—however, it's often siloed off in a dark corner of their tech stack.
Instead, with MDM and SIS system integrations, users can generate reports from within their school help desk software, and gain access to actionable insights, including:
Failure rates among devices, average ticket response times, average time logged per ticket, top service issue categories, student device usage, and more.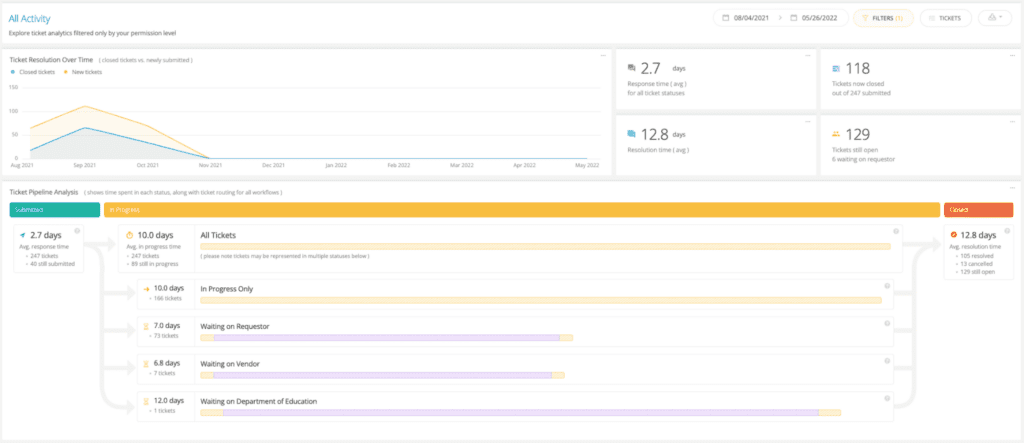 With analytics in full view, optimizing your support workflows no longer relies on hunches and guesswork. Instead, IT teams can share insights, provide feedback, and streamline support requests in a few simple clicks.
Support assistance when you need it most
Even after you've integrated your district's existing data, handling support requests requires a flexible, open line of communication. This is often where K-12 IT teams get stuck, and their productivity screeches to a halt.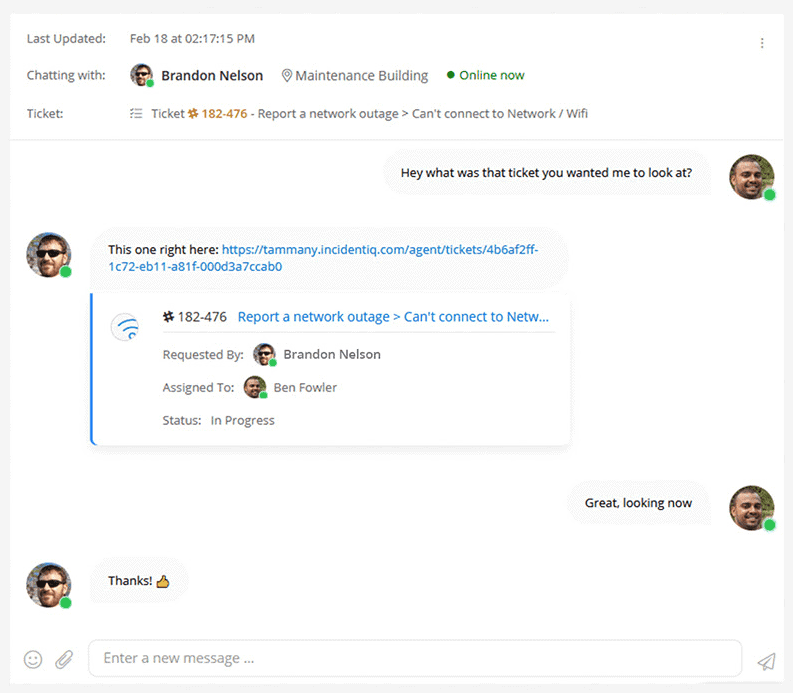 Within a data-rich, integrated help desk, IT agents can easily communicate with requestors in real-time, launch remote support sessions, and make district-wide announcements that keep everyone in the loop.
This is vital for large and small school districts alike. In order to effectively manage multiple, ongoing support requests, IT agents and requestors should be able to contact one another with as little friction as possible.
With multiple communication channels available (email, comments, real-time chat), users can collaborate on their own terms, prioritize tasks, and respond to support requests faster.
Handle support requests with ease
Utilizing MDM and SIS system integrations is one of the easiest ways to support your K-12 IT staff, empower your teachers, and achieve an incredible ROI from the time you'll save handling support requests.
Besides, your district's data is one of your most valuable IT assets—so don't let it sit and collect dust.
Instead, take the leap. Explore your options and see how other school districts are incorporating MDM and SIS system integrations to turn their help desk into a highly collaborative digital workspace.