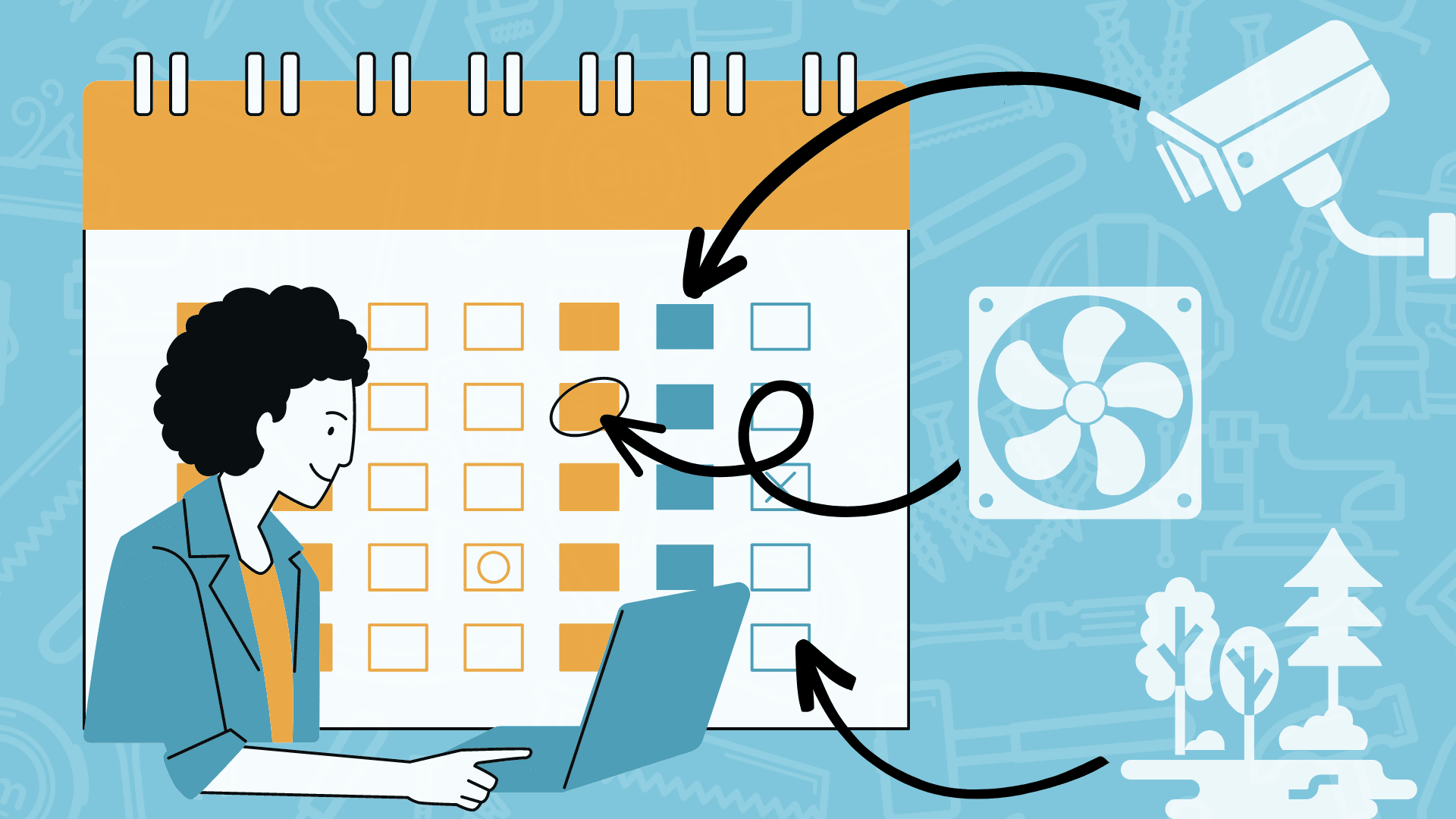 Many school buildings are in need of an update, and a long-term school maintenance plan is the path to bring your school into the modern age. Unlike regular maintenance, which focuses on keeping existing equipment and systems running, a long-term facility maintenance plan outlines your school district's plans for improving outdated or older buildings with upgrades, renovations, and replacements.
When students attend classes in rundown buildings, they experience lower academic performance and reduced engagement, leading to poorer outcomes compared to their peers who attend school in well-maintained, up-to-date facilities. Older buildings also make it more challenging for teachers to employ instructional practices that better serve diverse student populations. A long-term maintenance plan allows public schools to simultaneously create a safe and productive environment for educational programs and reduce the frequency and cost of ongoing maintenance work. Keep reading to learn how to develop and what to include in a long-term maintenance plan for your school facilities.
Two Critical Considerations for All Maintenance Plans
Every maintenance plan should revolve around two key elements: the well-being of everyone inside the buildings and the reality of budget funding. These factors guide the long-range priorities and timelines that make up your plan, allowing you set attainable goals that improve the overall quality of your school facilities.
Health & Safety Measures
The health and safety of the students, faculty, and staff within your school buildings should inform every aspect of your school facility maintenance plan. Older buildings may pose unexpected dangers, particularly if systems are damaged or need to be replaced. Long-term maintenance planning should place emphasis on projects that reduce hazards and prevent disasters like fires, structural collapses, and poisoning.
Although these threats might seem abstract and unlikely, they pose a very real risk to students and staff in older school buildings or facilities without proper maintenance. For example, in October 2022, seven children and two adults in a Missouri elementary school were hospitalized due to carbon monoxide poisoning. The source of the harmful gas was a leak from one of the two boilers that provide heat for the school. While everyone fully recovered, this served as a frightening and traumatic event for staff, students, and parents who believed that their school environment was a safe place for learning.
Likewise, schools with poor ventilation systems pose a less immediate but ongoing threat to student health. According to a study by the National Council on School Facilities, low ventilation rates can lead to a 50% to 370% greater incidence of respiratory illness. Both health emergencies and reoccurring illnesses are possible results of poor school maintenance. This underscores the importance of a long-term maintenance plan that prioritizes visual inspections, repairs, and replacements, particularly for school districts with older technologies and systems that may no longer be fully safe or functional.
Budget Funding & Project Prioritization
A school maintenance plan should also center on logical budgeting and prioritization of the most critical projects. A sound and strategic maintenance program will not only consider the current costs of a project but also potential future costs, which may fluctuate due to factors like inflation. School budgets are often limited, and it's important to keep in mind that not every improvement effort can be completed at the same time. Instead, facilities managers and school administrators must rank projects in terms of their importance to the safety and success of students and teachers. They can then determine when and how quickly each project can realistically be completed.
In addition to the amount and timing of funding, facilities managers must also consider the potential sources for the money they need. Although the federal government contributes to public school funding, according to the U.S. Department of Education, federal funds account for only around 8% of the contributions to elementary and secondary schools. The remaining money comes from local governments, property taxes, and other sources like private partnerships and donations. As a result, many school leaders have to overcome budget shortfalls and find creative ways to stretch funds to meet the needs of all of their district facilities. A long-term school facility maintenance plan should include the amount of money each project will require as well as planned and possible sources of funding.
Key Elements of a Long-Term School Maintenance Plan
The long-term plan for your maintenance department should be tailored to the specific needs and structure of your school district. However, there are some core factors that every plan and facilities management checklist should include.
Regular Inspections and Preventive Maintenance
Visual inspections and regular preventive maintenance are among the most important components of maintenance management. They allow maintenance personnel to stay on top of potential issues so that they can flag problems long before they evolve into system failures. Schools that use a year-round preventive maintenance schedule avoid costly, last-minute replacements of essential parts and equipment and prevent operational and instructional disruptions that can affect student learning. As a result, they save significant time and money compared to schools that rely on deferred maintenance, in which no action is taken until a system officially stops working.
Some of the items that require regular inspections and maintenance include:
Heating and air equipment: Heating, ventilation, and air conditioning (HVAC) systems require annual inspections, cleaning, and servicing, and air filters should be replaced every few months. HVAC systems include boilers, exhaust vents and fans, and air conditioners.
Safety features: To ensure that alarms, sprinklers, security cameras, and locks are working properly, maintenance teams should regularly check and maintain them. School officials typically inspect features like fire alarms and carbon monoxide detectors once a month.
Plumbing: Plumbing systems, including water heaters, water fountains, sinks, and toilets, should generally be inspected every one or two years. Regular cleaning and maintenance is an important daily activity to keep water clean and accessible.
Kitchen appliances: Ovens, freezers, and refrigerators are vital to ensuring that students receive nutritious food that's safe for consumption. Maintenance and custodial teams should inspect and clean kitchen equipment daily and conduct daily or weekly temperature checks to confirm that appliances are holding the temperatures required for food safety.
Roofs: Building elements like roofs can accumulate debris or fall victim to standing water. They should be inspected and cleaned once or twice a year to prevent leaks and damage to the building.
Outdoor spaces: Damaged playground equipment can cut, pinch, or trap children when they play. Visual inspections of playground equipment should occur daily or weekly.
Flooring and stairs: Over time, floors and stairs can become warped or loose. They require daily or weekly inspections to prevent trips, slips, and falls.
When performing routine inspections and preventive maintenance, it's essential for facilities managers to keep detailed records with the date of the most recent inspection, required maintenance frequency, and specific instructions for each task. An asset and facilities management tool simplifies this process and allows department leaders to schedule recurring maintenance jobs and track results over time.
Planned Upgrades for Electrical, Plumbing, HVAC Systems
In addition to making facilities functional, effective electrical, plumbing, and HVAC systems also make school buildings more comfortable and conducive to learning. Research has shown that students perform better in spaces with adequate light and appropriate temperatures, and access to clean water keeps students hydrated and hygienic throughout the day, raising energy levels and reducing the likelihood of transmitting bacteria.
Although existing systems may work properly, facilities managers should nevertheless plan to make upgrades when possible. Although they may require a significant financial investment, upgrades also bring many benefits:
Greater convenience and comfort: Due to developments in technology, many essential systems now offer enhanced features. For example, an electrician might install a new lighting system that allows for dimming in different areas of the classroom and that shuts off automatically when a classroom isn't in use.
Cost savings: Upgraded HVAC and electrical systems allow for improved energy management, which translates to substantial savings in the future. Energy-efficient equipment, lights, and appliances are more cost-effective than older systems, which place a drain on your resources and significantly increase your utility bills.
Improved safety: Outdated HVAC systems often have poor ventilation, which affects indoor air quality, so an upgrade offers notable health benefits. Likewise, bringing in a plumber to upgrade restrooms and water fountains reduces the risk of contamination or illness from degraded pipes.
Most schools can't afford to upgrade all of their systems all at once, so one of the responsibilities of facilities managers and school leaders is to determine which improvements will have the biggest impact and to analyze how much money and time might be saved. Rather than repeatedly paying for minor repairs to existing systems, schools can install new systems that are easier and less expensive to maintain.
Roof Maintenance and Replacement
While the roof of your school building might look fine from a distance, when you get up close, you could discover serious problems. Maintaining school roofs is essential to preventing leaks and collapses that can cause further damage and present dangers to students and staff. Maintenance departments should generally clean roofs and replace missing or damaged tiles or shingles once a year.
Roof materials naturally degrade over time. These are the average lifespans for common roof materials:
Tile and concrete, metal or steel, and slate: 50 years or longer
Single-ply: 30 years
Foam and built-up roofs: 25 to 30 years
Asphalt singers: 10 to 30 years
Wood shakes and shingles: 15 to 20 years
While some can last for decades, the average U.S. school building was constructed in 1968, so the average U.S. school is definitely due for a new roof by now if it hasn't yet received one. A plan for roof replacement, whether it needs to occur immediately or within the next five years, is an essential part of long-term maintenance. Develop a budget for a replacement roof based on input and quotes from local contractors.
In addition to planning for a scheduled replacement, your long-term maintenance plan should also include a list of approved local contracted service providers who can provide emergency repairs in the event that a natural disaster like high winds causes severe leaks or a roofing collapse. When calculating the cost of a roof replacement, it's also important to account for the damage that might be caused during a disaster, including ruined assets like computers or furniture.
Landscaping and Grounds Maintenance
Landscaping and grounds maintenance not only improve the appearance of school buildings but also offer practical value. Proper landscaping techniques divert stormwater flow away from schools, preventing flooding and pooling issues. In addition, landscaping can provide shade when students spend time outdoors, prevent soil erosion, and help buffer buildings from winds.
Day-to-day maintenance needs of outdoor spaces include inspecting and cleaning sidewalks, removing vandalism, mowing grass, and clearing debris. However, long-term grounds maintenance plans focus on bigger projects, such as:
Increasing safety by adding fences or shrubbery as barriers that prevent unauthorized entry into and exits from the grounds
Upgrading eco-systems to include rainwater management that redirects water to ponds, sprinkler systems, or holding tanks
Creating outdoor areas, including playgrounds, butterfly gardens, and relaxation spaces for greater student engagement and learning
Improving functionality with new parking lots and outdoor classroom areas
In contrast to regular grounds maintenance tasks that require minimal time and money, these types of projects require long-term plans so that facilities management teams can locate funding, secure permits and approvals, and seek feedback from community members. Although this is an intensive effort, it ultimately results in a more appealing and interactive space, which, in turn, can lead to a reduced footprint, higher enrollment, and greater student pride.
Exterior Building Maintenance & Upgrades
Students, staff, and parents get their first impression of your school from the buildings' exteriors. Outdated structures and poor building maintenance may suggest that the school isn't invested in the needs and well-being of students. In addition to directing maintenance staff to regularly clean, paint, and repair outdoor features, facilities managers may also want to consider possible long-term plans, including:
Adding covered outdoor walkways for safe and dry pick-ups and drop-offs
Upgrading windows or doors with modern options that offer better energy efficiency, insulation, and temperature control
Installing shatterproof or hurricane-rated glass panes to protect students from weather-related events and intruders
Using new building systems, such as cameras and intercoms, to improve security and prevent unauthorized access
Exterior upgrades may differ depending on building use and function. For example, adding UV-resistant windows to a classroom building helps prevent students from becoming overheated when they try to study, while visible security cameras may deter vandalism on a school playground. No matter which goals you decide to pursue, project summaries, projected budgets, and estimated timelines should all appear in the table of contents for your long-term school maintenance plan.
Interior Building Maintenance & Upgrades
The indoor spaces of school facilities should be welcoming, clean, and safe for students and teachers. Having an inviting building interior not only gives the impression that you care about the appearance of your school, but also visibly demonstrates that you prioritize your students' comfort and success.
Interior building maintenance tasks consist of both large and small jobs. A typical school cleaning checklist for custodial staff generally includes regularly wiping down surfaces like walls, desks, lockers, tables, and chairs, cleaning restrooms, sweeping and vacuuming floors, and cleaning kitchen equipment in cafeterias. These tasks are likely to occur daily, while other, more time-consuming custodial services occur much less frequently, often on an as-needed basis. They include:
Eliminating tripping hazards in floors, such as ripped linoleum or loose tiles
Replacing old carpet containing deeply engrained dust, dirt, and allergens at the end of its lifespan, which is generally between 5 and 15 years
Removing and replacing falling, damaged, or water-stained ceiling tiles
Checking for hazardous substances, like asbestos, as required by the Environmental Protection Agency
Confirming that door locks are functional so that school administrators can control who enters every school building
Along with replacements, maintenance, and repairs, upgrades to building interiors are also a worthy investment for your school district's funding. For example, electronic locks offer greater protection from would-be intruders and sound-absorbing ceiling tiles help improve classroom acoustics. These changes contribute to the long-term success of your schools and the students who attend them, and incorporating them into your larger school maintenance plan gives you the time to take the necessary steps, including securing funding, to achieve your goals.
Emergency Preparedness and Response Procedures
Natural disasters like tornados and fires, health emergencies like allergic reactions and choking, and active shooters all pose a risk to today's schools. School administrators must always remain vigilant and prepared for these and other potential emergencies. Staffing schools with trained security or resource officers is an important step toward safety and security, but facilities managers can also help protect students and employees from potential threats. They do so by ensuring that their educational facilities enable staff to respond quickly when the time comes to protect themselves and their students.
A school's safety checklist should include inspecting and testing existing emergency response systems, including fire alarms and fire extinguishers, which are essential to shielding students and school staff from potential harm. However, upgrading those systems may allow you to create an even safer learning environment. Consider taking steps like:
Implementing new communications and alert tools, such as digital message boards and text messages that warn students when there is a threat
Adding flashing warning lights to alarm systems for students who have hearing impairments
Installing automatic door locks so that teachers can lock classroom doors from their desks with the touch of a button
Replacing standard doors with updated options featuring reinforced glass and bullet-resistant materials
As new technology develops, schools must remain up-to-date on the best possible solutions for their emergency preparedness and response procedures. Within your long-term school maintenance plan, include information about potential sources that could help fund your projects. For instance, government agencies frequently offer grants as a means of improving public school safety.
How to Actively Prioritize a Long-Term Maintenance Plan
Creating a long-term maintenance plan is an important first step toward improving your facilities, but visualizing what you would like to see in your school isn't enough to make it a reality. Facilities managers and school administrators must work together to create a comprehensive plan and secure funding from their school budgets, partnerships, and grants from agencies and organizations like the Department of Education. Furthermore, they must collaborate to find qualified service providers who can perform the work at the speed and quality that their schools deserve.
Whether you want to install a new security system in your district's high school or construct a more engaging playground at an elementary school, the facilities management software from Incident IQ makes it easy to track goals and review data from your long-term maintenance plan. You can have reports built automatically to show progress toward your long-range goals, or to send for school board officials to audit successes and potentially allocate additional funding.
You can learn more about Incident IQ's facilities management platform and how it can simplify your long-term maintenance planning by booking a free demo. With a solution like Incident IQ, you may soon be on your way to creating a more positive and productive learning environment for your students and staff.