There's nothing sadder than a Chromebook's 8th birthday. After all, that's when it reaches its AUE (Auto Update Expiration). These automatic device updates provide Chromebooks with the latest features that keep the device's operating system, browser, and hardware secure.
So what happens when your Chromebook stops receiving updates? Does that mean it needs to be deprovisioned and thrown out of your school district for good?
We're going to answer all these questions and more, and walk you through how to extend the lifespan of your district Chromebooks.
What Is The Lifespan of a New Chromebook?
The lifespan of a Chromebook is eight years. That's when it reaches its AUE. This is a vast improvement from previous years when a Chromebook was only receiving updates for five to six years after its manufacturing date.
However, just because a Chromebook technically lasts eight years, doesn't mean you'll get eight years of use out of it after you buy it. Confusing, right? Let's explain.
If you were to buy a Chromebook this year that was manufactured in 2017, you would only get four more years out of it before it reached its AUE. That's because the clock starts ticking as soon as a Chromebook is rolled out and put on retail shelves. Even if it's brand new and hasn't been used, it will only receive support eight years after its manufacturing date.
This is important for K-12 IT teams to keep in mind when planning large Chromebook purchases for their school district. While older Chromebook models might come with a lower price tag that appeals to your district's technology budget, purchasing Chromebooks on the verge of expiration will end up costing you more money in the long run.
Using Chromebooks after their AUE
It's true, Chromebooks are no longer supported and receive updates eight years after their manufacturing date—but what happens if your students continue to use their assigned Chromebooks after their updates expire?
Technically, Chromebooks can still be used after their AUE. However, this means that they'll no longer receive critical security updates that keep K-12 students safe. Students who use their assigned Chromebooks to download unauthorized apps or install spammy Chrome browser extensions could be putting both themselves and their devices at risk.
Ultimately, the decision to continue using Chromebooks after their end-of-life has been reached is up to your district, but with no way to properly assess the risks of using outdated devices, it's advisable to replace outdated Chromebooks with newer, safer alternatives.
How Do Chromebooks Compare to Other Devices?
Chromebooks are by far the most popular choice for student laptops. Their build quality, lightweight design, long battery life, security features, and price tag make them a no-brainer for most K-12 districts—but there are still considerations to keep in mind before purchasing them en masse.
For starters, unlike Dell, Lenovo, or other popular laptops, the Chromebook hardware itself expires after its AUE. For example, with an expired Windows 7 laptop, users can simply buy Windows 10 and keep using the device until it eventually breaks down. This is not the case with Chromebooks.
There is currently no option to purchase an updated version of Chrome OS. The only way to continue receiving updates from Google is to purchase a new Chromebook entirely. While this may not be a big deal for the individual consumer, school districts must plan out their student laptop investments strategically to avoid pouring money into a fleet of Chromebooks that are about to be rendered useless.
Note: This technically applies to all Chrome OS makes and models, including the Acer Chromebook, Lenovo Chromebook duet, Pixelbook Go, Galaxy Chromebook, the Samsung Chromebook, and more. In short, if it runs on Chrome OS, the same rules apply.
Tips for Extending the Life of Your District's Chromebooks
Just because Chromebooks only last eight years, doesn't mean there aren't ways to keep them operating at full capacity while they're deployed in your district. Here are a few tips that might help.
Plan all student Chromebook purchases in advance.
Planning for the dreaded eight-year AUE mark allows your K-12 IT teams to get the best return on investment from their Chromebook purchases. Be sure to keep track of the make, model, and year of each Chromebook within a spreadsheet or your district's inventory management software to assess how many devices will need replacing.
Integrating your current school MDM solution with a dedicated asset management platform is an easy way to quickly record and track the approximate age of your district's Chromebooks.
Create an "acceptable use" or "school Chromebook policy"
A school Chromebook policy helps students and their parents/guardians understand how to properly care for and maintain their assigned school Chromebooks. Without the proper knowledge of how to protect their devices from damage, a student might end up breaking or damaging their device long before it reaches its AUE.
A clearly stated Chromebook policy should also outline disciplinary actions related to mishandling or damaging school Chromebooks. IT teams can work together with their school administration to come up with appropriate consequences and damage-related fees based on the needs of your district.
Ultimately, a Chromebook policy should help your district ensure the safety of its Chromebook investment.
Monitor the ownership and service histories of Chrome OS devices
The best way to get quick insights into the physical status of your school Chromebooks is to keep an accurate record of their ownership and service history. Using Chromebook management software, K-12 IT teams can quickly see how many times a device has switched owners, been sent in for repairs, been disabled, and more.
What To Do With Chromebooks That Have Reached Their End of Life
It is not recommended for students to continue using Chromebooks that have reached their AUE, so it's important for IT teams to have a plan in place when devices are no longer operable.
Outline a Chromebook deprovisioning plan
A deprovisioning plan will make it easy for your K-12 IT team to remove outdated Chromebooks from your district. Steps might include:
Identify all Chromebooks reaching their AUE
Email students and parents about the state of their Chromebooks. Send them reminders of when their device is to be deprovisioned and replaced, so they can plan ahead and back up any critical files
Schedule and conduct a deployment and collection day to issue new Chromebooks and collect old ones
Use Google Admin Console to deprovision any student Chromebooks that are no longer currently deployed and have reached their AUE
How to Find a Google Chromebook's AUE Date
There's a lot of talk about the "AUE" in this article, but how do you find it in the first place?
Go to the Google Chrome Auto Update Policy page
Under the "Google Approved Chrome Devices" section, search the listed manufacturers and find your Chromebook model (e.g. Acer, Dell, Google, HP, etc.)
Identify the exact make and model of your Chromebook
Once you've found your specific Chromebook, go to the "Auto Update Expiration date" column. This section will list the exact month and year that your selected devices will stop receiving regular Chrome OS updates.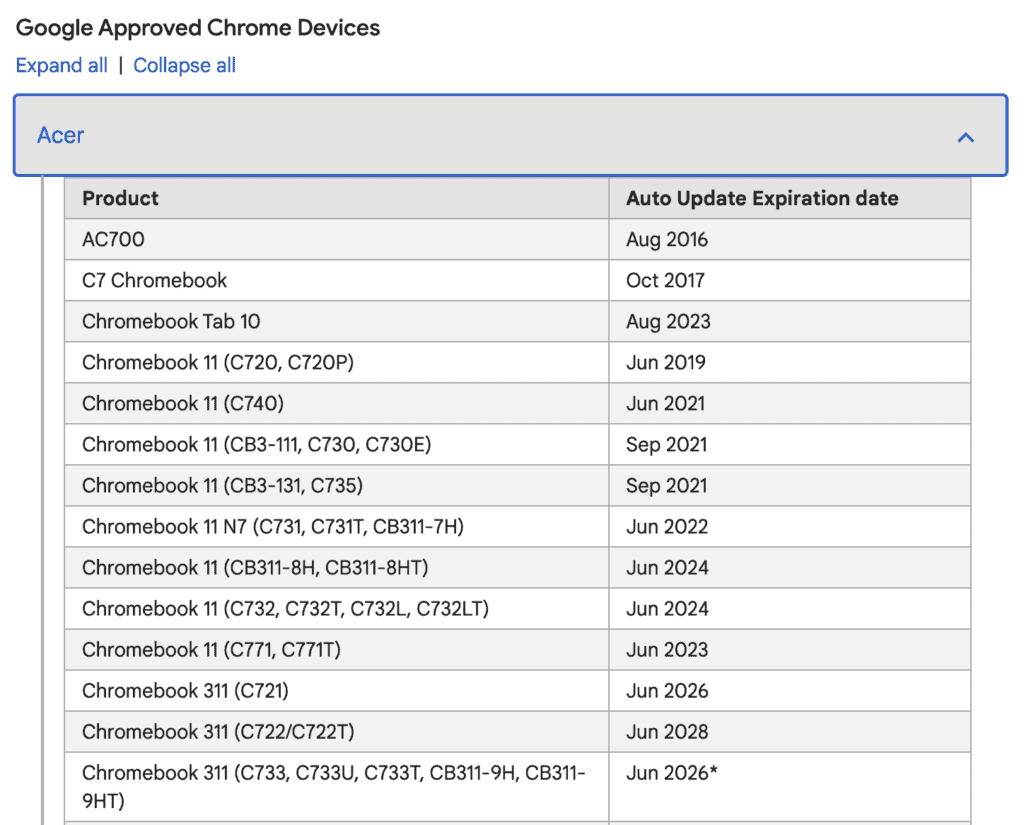 Monitoring and Tracking School Chromebooks
Monitoring and tracking school Chromebooks allow K-12 IT teams to anticipate device failures, AUEs, purchasing new student laptops, and more—but with thousands of student Chromebooks being deployed in a district at once, tracking student Chromebooks is easier said than done.
At Incident IQ, we've built a K-12 service management system that helps IT teams track and monitor school Chromebooks, plan deployments and collections at scale, and get the most out of their 1:1 technology initiatives.
Want to see how your IT team can make the most out of your school district's Chromebook investment? Schedule a demo and see the tools that we've built exclusively for K-12.