The help desk software you choose is going to dictate a lot of what your day-to-day responsibilities look like as an IT professional in K-12.
Without workflow automations, you'll be stuck assigning tasks and responding to tickets manually. Without views and filters, all your tickets get lumped together in one big pile. Without reporting and analytics, you have no way of knowing what is (or isn't) working within your department.
If you're already using a help desk solution in your district, chances are you don't have these problems—but you still may not be 100% satisfied with the capabilities of your current help desk.
This made us ask the question: why is that?
To get to the bottom of things, we've created a list of all the considerations you need to make before choosing or transitioning to a new K-12 help desk tool. If you want to find the right help desk software that makes the support process easier for K-12 IT agents, teachers, faculty, and students alike, read on.
1. Effortless User Experience
A seamless user experience for both agents and requestors is an important factor to take into account when choosing a potential help desk.
Just because a solution is feature-rich, that doesn't mean your requestors can easily submit requests and get the support they need. Similarly, your IT agents should be able to quickly address incoming requests without getting bogged down in labyrinthine trails of menus and clicking.
Here are some help desk features that ensure your IT techs and end-users can easily navigate the ticketing process.
Self-service portal
Having a self-service portal available for K-12 teachers, students, and staff helps ease some of the workload off your IT team and clears up your service queue for higher-priority tickets. Within a K-12 self-service portal, teachers can:
Select their homeroom and view a complete student roster
Quickly submit a ticket for the student that needs IT support
Describe the issue in detail or select an issue category
Track their ticket from creation to resolution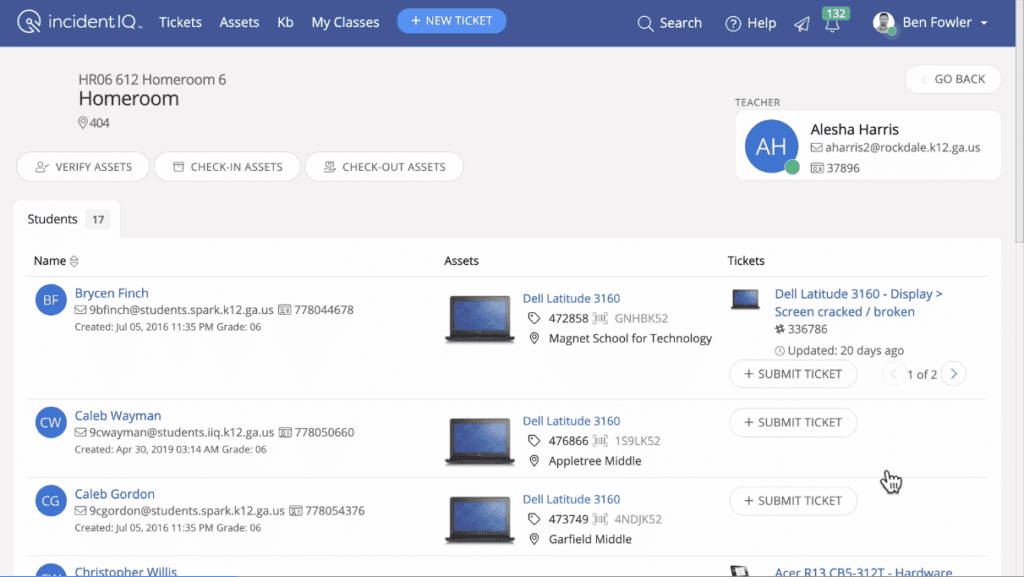 While most generic help desk solutions offer a separate user portal for requestors, a school-specific help desk is designed with the needs of K-12 teachers, faculty, and students already in mind. At Incident IQ, we demonstrate this with our My Classes self-service portal for teachers.
Customer support
Strong customer support is a must when considering a new help desk. The last thing you want is for a customer support agent to send you a vague knowledge base article that leaves you scratching your head whenever you need help.
When vetting your new help desk, research the different channels of support the provider offers:
Email Support
FAQs/Forum
Detailed Knowledge Base
Phone Support
Live Customer Support Representatives
Live Chat
If your prospective help desk doesn't offer multiple channels of support, you can also look for a strong user community to help you out when you're in a pinch. Some vendors host community groups and forums, so users can ask questions and learn how to use their help desk effectively.
Ticket Templates
Pre-populated ticket templates allow your IT agents to quickly address common support requests. This is especially useful in busy school dstricts where password reset requests and broken student Chromebook monitors can quickly clog your service queue.
FAQs and knowledge base articles
Detailed FAQs and knowledge base articles that are easy for K-12 staff to understand can save your IT department loads of time. If a teacher has a question about a school-specific app or learning application, having a relevant knowledge base article on-hand to send them can spare IT agents from back-and-forth conversations with requestors.
Real-time communication between agents and requestors
Trying to nail down communication between your IT department and the rest of your school district can be tricky. The idea of an open channel of communication between departments sounds nice on paper, but it could also lead to a flooded email inbox.
An in-product messenger app allows IT agents to start chat threads directly from a help ticket, drag and drop files, share screenshots, link Knowledge Base articles, and provide reliable IT support in real-time.
Having a chat module within your school help desk also helps busy IT teams stay up-to-date with ongoing support sessions and quickly reply to incoming messages, eliminating the confusion of trying to communicate with multiple requestors at once.
2. Automation & Workflow Scalability
Here's something every IT pro can agree on: automations amplify your team's efforts and make everything easier.
When the success of your department is measured by their ability to quickly and accurately resolve support requests, automations ensure your workflows are set up to avoid redundancies, keep tickets prioritized correctly, and route incoming requests to the correct agent.
Some standard automations your school help desk should allow, include:
Routing tickets based on location, requestor, asset, issue type, and more
Elevating the priority of tickets related to critical device failures
Notifying relevant users via email when tickets of a specific type are submitted
Assigning service-level agreements based on ticket type
Automating your workflows is especially important for large and growing school districts that employ many IT agents and help desk technicians. As both the size of your school district and IT department grow, having automations that can scale with you makes managing complex workflows simple.
To accommodate this, your school help desk should allow you to test and assess the impact of your automations before turning them on.
3. Cross-Functional Collaboration Across Departments
Effective collaboration can make or break the effectiveness of any team, and your IT department is no exception.
There are several specific types of requestors within a school district that will inevitably need help from IT. These roles can range from Principals, Administrators, Teachers, Facility Technicians, Library Media Specialists, Custodians, Groundskeepers, and more.
Your IT help desk needs to be able to collaborate with and serve each of these different requestors based on their specific needs. While generic help desk software treats all requestors the same, your school help desk software should allow you to separate requestors into the different relevant roles, departments, and positions that are commonly found within K-12 schools.
The ability to route, sort, prioritize, and build your workflows around different requestor types within your district enables IT agents to increase response times and understand where they need to concentrate their support efforts.
4. Real-Time Reporting & Metrics
Real-time reporting and metrics tracking within your school help desk give your department immediate, actionable insights into the performance of your district technology and support teams.
Sounds powerful, right? But what does it look like in practice?
Analytics and reporting metrics allow you to sit down in the morning, and in less than five minutes, see where you stand with your SLAs, tickets, and more. This makes it easier to identify bottlenecks and improve the efficiency of your existing workflows.
Analytics also help IT departments dealing with limited school budgets justify new team hires and budget increases. With data on-hand, it's easy to show school leadership where your department is struggling, and how an additional key team member or budget increase would benefit both your department and the school district as a whole.
5. Integrations With School-Specific Applications
When finalizing the top picks for your new school help desk, you'll want to keep relevant system integrations top of mind. A powerful help desk is great on its own, but it works much better if it can speak to the other school-specific tools already set up in your tech stack.
These might include your district's SIS, MDM, educational apps, and more.
Choosing a help desk with an open API allows your IT department to connect with thousands of systems and provide the relevant information you need to get help requests resolved quickly. It also allows your IT agents to creative and create their own customizable extensions to meet the needs of your department.
Help desk integrations give your team the ability to:
Connect your billing system to your ticketing system
Push tickets to district service providers
Pull help desk analytics into data visualization software
—and collaborate with any other software your department relies on to provide support.
Picking The Best K-12 School Help Desk
To be frank, there are countless IT help desks on the market. This makes narrowing down your choices difficult, and it often comes down to the price tag, existing vendor relationships, and personal biases. However, even an established IT help desk can fail to meet the needs of K-12 IT departments.
At Incident IQ, we designed our help desk exclusively for K-12 schools. From the integrations, custom roles, deployment tools for student devices, and more, our platform is built to meet the specific needs of school faculty and staff.
Want to see how a help desk built for schools could make a difference in your district? Schedule a demo with our team to see the support tools we've built for K-12.